Getting the rhythm.
Rhythm Heaven is a set of rhythm games that really test how well you can keep the beat. Since they first came out for the Game Boy Advanced more than a decade ago, these fun and stressful games have been making us tap our feet and snap our fingers. Even though the last Rhythm Heaven game came out when 3DS was popular, we still turn on our Wiis to play old favorites like Rhythm Heaven Fever.
But which music games are the best in a series that is so well-known? Which ones do we go back to every once in a while to Beat the Beat? Here are the Rhythm Heaven levels that we think are the best.
Karate Man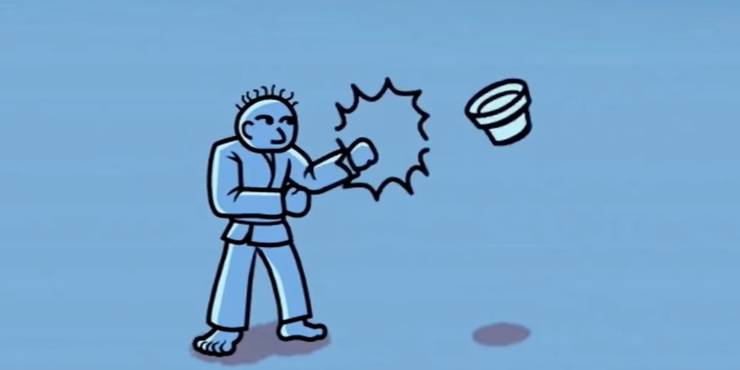 Karate Man is a fan favorite, that much is clear. So far, it's been in every Rhythm Heaven game, and Karate Joe, the main character, has even been in Super Smash Bros. The main goal of Karate Man is to hit things that are being thrown at you.
Even though it seems hard at first, you'll get the hang of it after a while. You might even find yourself singing along to Lonely Storm, a song by Rhythm Heaven Fever. Just try not to get too scared when the announcer says "Hit three!" or the word "Combo!" shows on the screen.
Cheer Readers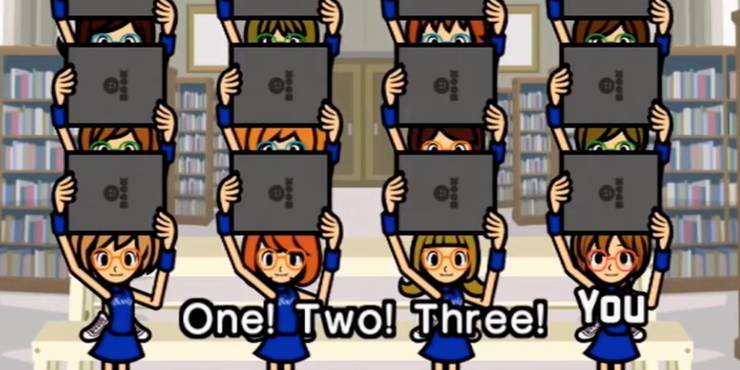 It's hard to study. So, wouldn't you want someone to cheer you on while you worked in the library? Yes, these fans can be a little loud, but they are trying to help. And their motivating "Okay, it's on!" can get even the most lazy student to try for an A+.
In Cheer Readers, which is in Rhythm Heaven Fever and Rhythm Heaven Megamix, you have to keep up with your cheer squad, who have gotten rid of their pom-poms and replaced them with hardback books. Depending on what is said, you will have to either turn your book over, spin it in your hands, or open it to the right page. If you hit every beat, you'll see a wave effect that would be great for a sports game. Or, in this case, event study.
Fan Club
In Fan Club, you play as a monkey who cheers on stage for their favorite pop star. You did read that correctly. In this game, you and your monkey fan friends have to clap and jump at the same time. If you are successful, the singer will thank you. If you fail, you'll have to try the step again.
This level is fun because you have to pay attention to the singer's cues as she sings her song. When she says a word three times, you should clap four times. And every time she says "I guess," you have to clap three times and then jump. It's a unique twist on the rhythm game style, and Fan Club 2, where you have to cheer along to a longer version of the song, only makes things harder.
Flock Step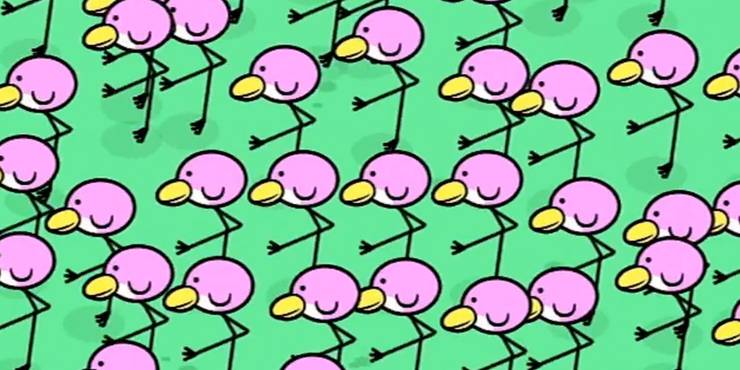 The sounds of Flock Step are hard not to like. In this game, you control a pink bird with long legs and small wings. It's in Rhythm Heaven Fever and Rhythm Heaven Megamix. You must use your sense of rhythm to help this little chick move in time with the rest of the group. This seems easy to do in real life. But it will be hard to find your bird friend when the screen is full of bright birds.
Still, we can forget about how hard this level is because the song is catchy and our pink hero looks shocked every time they get ping-ponged back and forth against their neighbors. We can just enjoy the march.
Flipper-Flop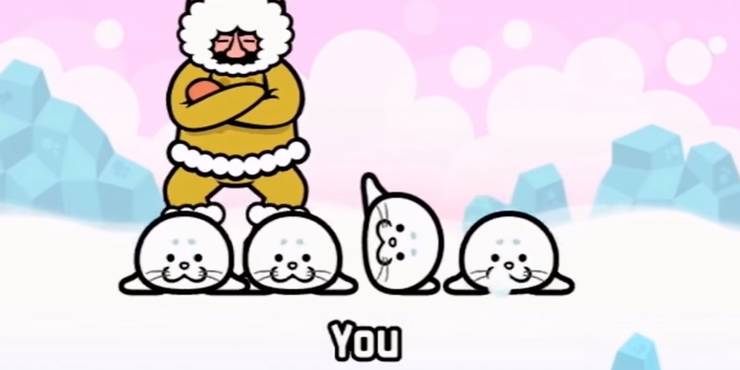 Not only are these seals very cute, but they also know how to dance well. Well, at least the three people around you are. In Flipper-Flop, you play as a cute white seal that has to flip its flippers to the beat. If you do this well, your Captain will be proud and your team will be happy.
If you make a mistake, though, your seal will look as shocked as the pink bird in Flock Step. This level is not only in the Wii version of Rhythm Heaven, but it also comes back in the 3DS version, so you can dance with these seals and their master again.
Built To Scale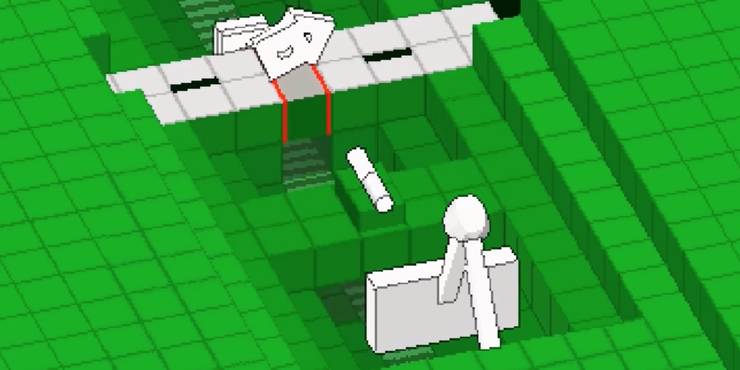 There are different versions of the level Built to Scale, but the one we will focus on is from the DS game Rhythm Heaven. This is the first level of Drift Boss game, and the directions are simple: when the do-re-mi scale hits "sol," flick your stylus so that the middle rod piece can connect two moving square panels together.
Even though it's easy at first, the stage gets harder when the music gets faster and someone turns off the lights. It's a big surprise to throw curveballs like this while still following the rules of flicking on sol, but it helps new players get ready for how fast-paced Rhythm Heaven games are.
Air Rally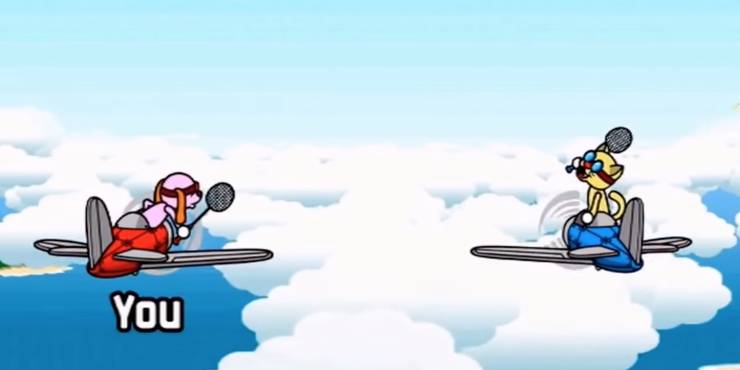 Usually, a pilot of a single-seat plane wouldn't play badminton with a cat going on another plane. But in Air Rally, keeping the rally going is the most important thing. Your seatmate is there to help you keep the beat by singing "Ba-bum-bum-bum!"
Unluckily, this pilot cat will fly ahead of you, become a tiny dot in the distance, and switch from singing to yelling Ba's. Still, even though this level can give us a headache, we still like to remember when we dropped the birdie and our best cat friend yelled at us.
Ringside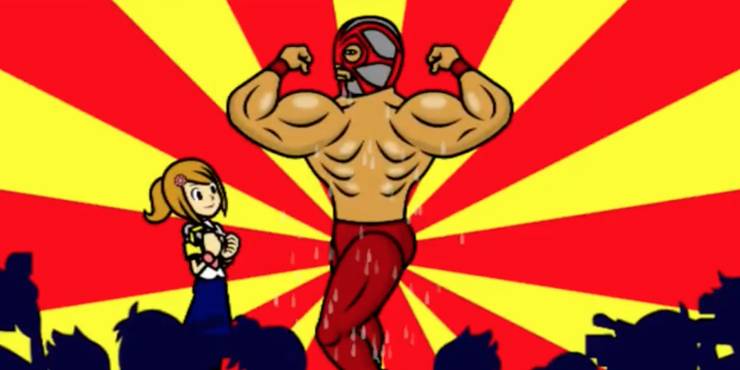 In Ringside, you play as a sweaty wrestler who has to answer questions properly and pose for the camera when asked. And, as a sweaty wrestler, you might not have much to say in words, but it's important that your movements show how happy you are to win.
For this challenge, you must either nod or flex, based on what is asked. On occasion, you do both. We also can't forget the reporter who interviews the wrestler. His or her "Wubbadubba, 'zat true?" and "You go, big guy!" questions and comments are still with us after all these years.
Packing Pests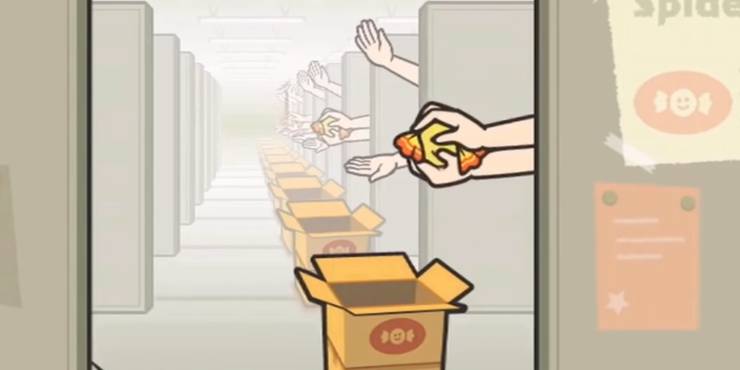 There's nothing better than how sweet candy tastes. And nothing is worse than having spiders crawl all over your body. You get to see the best and worst of both worlds in Packing Pests. You have to catch all the food that gets thrown at you and swat away any cute but annoying spiders.
The song that goes with this level is amazing, and it's not just because you have to protect sweets from spiders. There's something so enjoyable about catching and hitting to the beat of this happy song. Especially when the speaker tells you to "Double Up," a sound that tells you to hit two bugs with eight legs to get rid of them.
Remix 10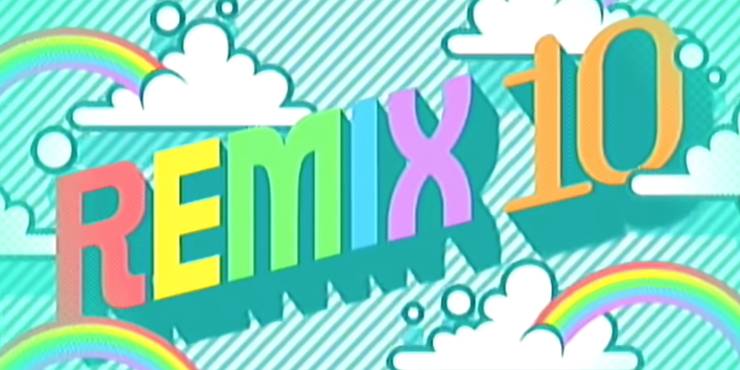 Oh, Mix 10! What are Remixes? Well, it's a task that tests your skills by having you play a mix of rhythm levels from before. Be ready to play all the rounds that you have already passed and failed at quickly and without a break.
Remix 10 by Rhythm Heaven Fever is our best of all the Remixes. This trial lets you run through 30 music games. That's every level, plus the tutorial and the thanks for the game's creators. On top of that, this Remix will seem to end, but then it will add a few more beats. Twice! It really is a celebration of all your hard work and a memory of every embarrassing mistake that Rhythm Hell, er, Heaven, made you make.